Description
Natural medium perforated cultured pearls: 8 mm.
Half-perforated cultured pearls are available in different sizes. So you can choose the size or sizes that best suit you and DIY to make any style of earrings you like.
100% natural freshwater cultured pearls come from oysters, which have a natural round shape. All natural freshwater pearls are unique and have a round and smooth surface, which makes them very comfortable to wear. If you look closely, you will also see the unique surface texture of natural cultured pearls, which gives them a natural and elegant touch.
Natural freshwater cultured pearls are not only fresh, comfortable and elegant, but also versatile. These semi-perforated and loose pearls are usually suitable for earrings, tacks and much more. Since we have these beads in semi-winged holes, you won't have to struggle to drill them.
Freshwater cultured pearls are great accessories for crafts. We can use these accessories for earrings to make any creative craft that we like. The finished product can be given to friends and family at weddings, birthdays, anniversaries and many other occasions. We are sure that they will love them, as they will easily increase a woman's confidence and charm.
Natural medium perforated cultured pearls
All natural cultured pearls are unique. Due to lighting and computer settings, the product received may vary slightly, Read the sizes of the different half-diamond pearls before buying and choose the card you like best.
Nacre comes from several types of marine molluscs, such as oysters. If you try to open an oyster shell and look closely at its inner surface, you will see that it is slightly shiny and sparkling. With it you can make beautiful decorative objects that will attract a lot of attention.
Natural freshwater cultured pearls are said to be not only beautiful, but are also attributed healing powers. They can help calm the heart; get rid of social phobias or panic attacks and depressions caused by low serotonin levels; improve memory by activating the production of growth factors in nerve cells in the brain; and stimulate the production of collagen, which quickly regenerates the skin layer of our body and makes us feel beautiful and vibrant.
Additional information
| | |
| --- | --- |
| Weight | 0,0505 kg |
| Color | Shell Color |
| Shape | Half Perforated |
| Size | 8mm |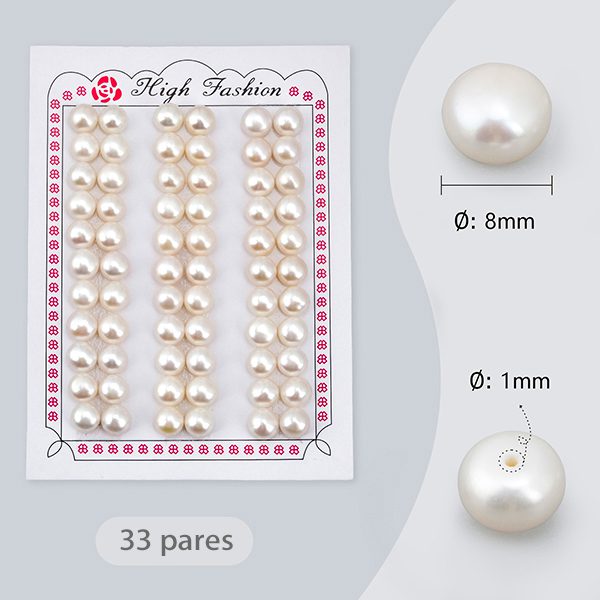 Medium perforated cultured pearls 33 pairs
13,43

€

(VAT NOT included)